I'm a workout freak, we all know this. I mean, do you read my blog?!? And just because I typically workout alone doesn't necessarily mean I don't try to look cute while doing it! Whether I'm working out solo, or in a group, I always have to look girly :-) So when I caught a glimpse of these adorable moisture wicking headbands from Scarlett Craft, I fell in love.




These headbands are so simple and yet so totally necessary. I tend to sweat A LOT when I workout, and is just icky to have sweat running in your eyes. Not very "lady-like" at all! These headbands keep your face dry! Also, if you use any sort of products in your hair, this headband is a total godsend for protecting your skin from the awful damage sweat can cause. This headband totally keeps all moisture out of your face. It is also a very light tech fabric and won't make you any hotter than you already are when you're doing a hardcore workout!

Scarlett Craft has a huge selection of colors, patterns and phrases to choose from. The headband I received was the Burgundy "Dare To Become" Fitness Headband... I rocked it for my entire 45 minute kettlebell workout yesterday afternoon and I'm happy to report that it stayed on, stayed dry, and my face stayed sweat-free! It's amazing how something so simple can improve your workout on so many levels. I normally have to keep a towel closeby to wipe my face off, but i hate dirtying decent towels for that purpose. Plus, it's aggravating when I'm getting into my groove during my workouts and I have to constantly pause to clear off my face... When I wore this headband, I could just push thru and not have to worry about my eyeballs burning from the sweat dripping into them! Here's me after my workout!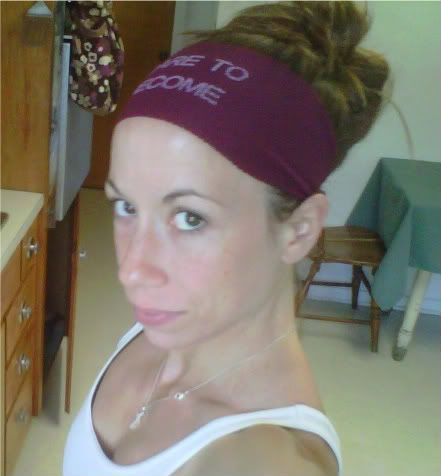 Cute, right? And so functional! And I of course have to mention that these headbands are VERY affordable :-)

**BUY IT**
Visit Scarlett Craft on Etsy to choose from a variety of different colors/styles!

**THE GIVEAWAY**
One of my readers will win a moisture wicking headband identical to the one I'm rocking!

**MANDATORY ENTRY**
The only mandatory entry is that you are a follower of my blog! Simple. :-)

ADDITIONAL ENTRIES- (Please leave a separate comment for EACH entry. If it says +2, please enter two separate comments!)

* Like Me on Facebook. (+2)
* Follow Scarlett Craft on Twitter. (+2)
* Follow Me on Twitter (+2)
* Grab my pretty little button, post it to your blog & link me to it. (+3)
* Blog about this giveaway & link me to it. (+5)
* Sign up for my e-mail newsletter.
* Tweet this giveaway. (You may do this 3x per day!)
* Make a purchase from Scarlett Craft (+10)

Contest open to US & Canada residents, 18 years old and older. Contest ends 6/28/10 at 9 p.m. EST. Winner will be chosen using random.org. Be sure to leave your email address in your comment unless it's visible on your Blogger profile. (If I can't contact you, a new winner will be drawn.) Winner will have 48 hours to respond to my email. If winner does not claim their prize in the 48 hour period, a new winner will be chosen at random.

*I was not financially compensated for this giveaway. I was given a sample of the above product for review. The opinions & views expressed are that of my own and were not impacted by having received merchandise.